This is going to be scary | Week 4.6.18|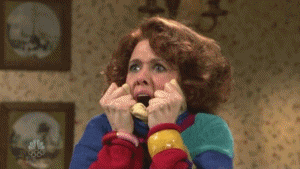 So, I've never wrote a "blog" post before.
Until now.
The end.
Just kidding. But seriously, this is pretty scary. I've been contemplating "blogging," "journaling," whatever you want to call it, for exactly a year now.
How do I know that? Because today, I went on my website and clicked the Journal tab, and found under "Drafts" a post I attempted to write on April 21, 2017. Legit, a year ago.
I guess this is the part of the blog post where I tell you I believe in "signs." And this, was definitely one of them.
Talk about a smack in the face. For an entire year, I've been contemplating something instead of acting, doing, trying. That is lame.
I am not going to waste another day, wondering if I should write. Because that is really the goal of my "blog." I want it to be an outlet, my space (no to be confused with MySpace), to write-- whatever I want, whenever I want. And to share (when I'm feeling brave enough).
My feelings on Day 1 of my blog experiment are this (Or see GIF above)
This is pretty scary
I'm nervous
I wonder if people will judge
I'm not here to judge
I'm here to write
I hope you won't judge
I hope you enjoy
I hope you read my posts and laugh, cry, and relate
I don't know how many bloggers there are in the world (probably like 5 million...) * I immediately Googled this info to find out, and as of 2013 there were 152 million bloggers in the world. So, I was close.
I can't say there will be any rhyme or reason to the type of stuff I post, but feel free to read whatever tickles your fancy. (an English phrase that dates back to the 1770s.)
Topics may include:
-Swimming (and Life) Lessons from my 82 year old "Jewish Mother"
-Lessons my Grandma taught me
-Working for an ostrich ranch in Robbins, North Carolina
-My career as a television news reporter
-Starting my own videography business
-Travel
-Being a military spouse (or as a I like to call myself, "Swiss Army Wife." Just kidding, I don't call myself that. Buuuut I may call my blog post that)
-Personal stories
-Poetry(ish) stuff
-A weekly write-up of all my new discoveries that week: podcasts, audio books, music, events,articles, products I'm using... basically things I like and want to share so other people can try and enjoy them too. #wordofmouth
I think that's it for now.
I'll end this entry how I always ended my diary entries growing up.
"Sorry so short. I'll write again soon when I have more time. Love, H"
(Who did I think I was? A successful business woman off to her next meeting? #middlechild)
(Picture of me in my high school dance team outfit. I was trying to hide the piece of gum in my mouth. #fail #thosehighlightsthough)